2016-07-27 - Test your candidates: Hiring Decisions are Critical Decisions
Scrum.as is a market-leading agile training provider. Over the last 3 years thousands of candidates have taken our agile courses.
But, we see issues in the recruitment market where it is very hard for companies and recruiters to make sure that people and consultants have the right skills when hiring them.
Experts estimate the cost of a bad hiring or promotion decision ranges from 20% to 200% of a year's salary, depending on the position. Therefore, hiring decisions are among the most important decisions an organisation makes. In addition, if you are a job agency or Recruitment Company, sending over bad candidates can make you lose the whole customer.
We are proud to offer the most innovative, easy-to-use online skills testing solutions. Our QuickTest for Business suite will help you:
Identify applicant's professional skills
Assist hiring decisions
Reduce recruitment costs
Determine training need
With this easy-to-use system you get 100% control of the candidates you want to test. And you make sure that what the candidates write in his CV is correct.
For now you can test your candidates for 9 skills:
Scrum Master Foundation (ISMF)
Product Owner Foundation (IPOF)
Agile Test Foundation (IATF)
Test Process Advanced (ITPA)
Prince 2 Basic (QuickTest)
PMP Basic (QuickTest)
ISTQB Basic (QuickTest)
ITIL Basic (QuickTest)
IREB Basic (QuickTest)
NB: Many more QuickTest will follow soon, and as a company you get access to them all.
So how does this candidate skill testing system works? - is it easy to use? - What does it cost?
So how does it work?
Example: Let us say you have an assignment open for a Test Manager, who should know ISTQB. You found 3 candidates, and of course ISTQB is painted all over the CV's your got from them because you had it in your job description.
To be 100% sure that your candidates are still updated with the ISTQB skills needed for this assignment you want to give them a QuickTest. 30 basic ISTQB skills question. Then you do the below steps if first time you use the system. If you already use the system just logon and continue from step 3.
Buy access to bulk QuickTests (10, 20, 30, 50 and 200)
Press Generate QuickTest id

Write name of candidate and pick the skills you want to test him/her for and press New Test

Now you can send the QuickTest/certification to the candidate, just press Send ID to candidate. You can then enter his email address and he will get a link and password to start the test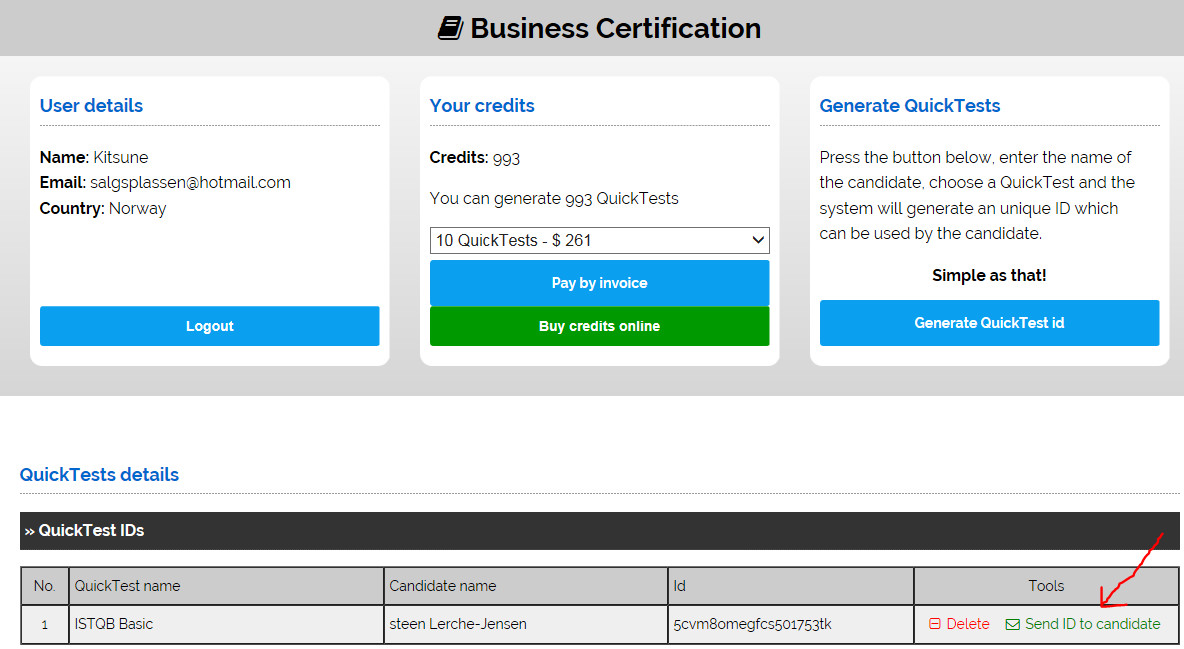 It is then up to the candidate to finish the test. When that is done you will get a Wright/Wrong report under Tools, and if he passed you will also get a diploma if it was in the certification program, or a QuickTest passed document if it was a QuickTest.
Let me show you the wright/Wrong report and the QuickTest passed document
Example of Right/Wrong report: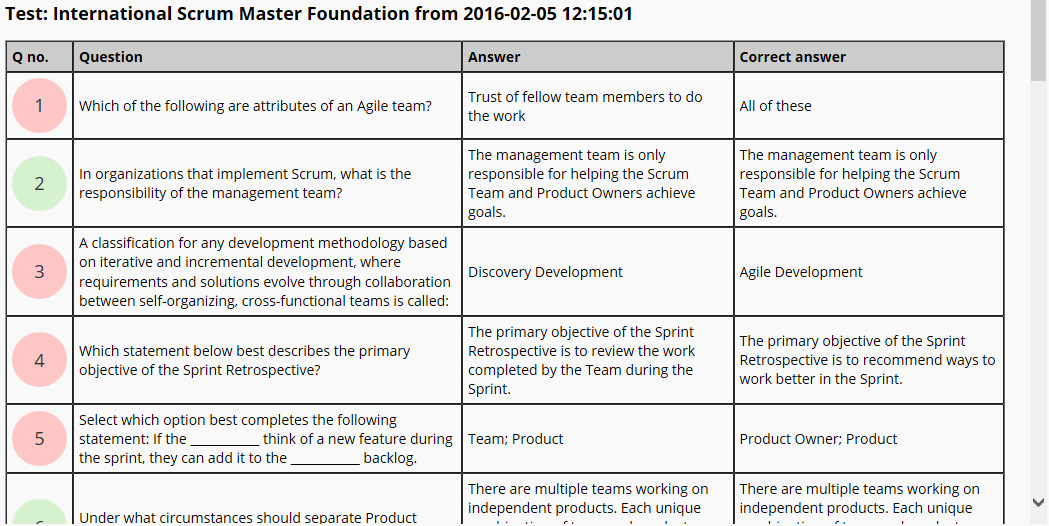 Here's the QuickTest Passed document: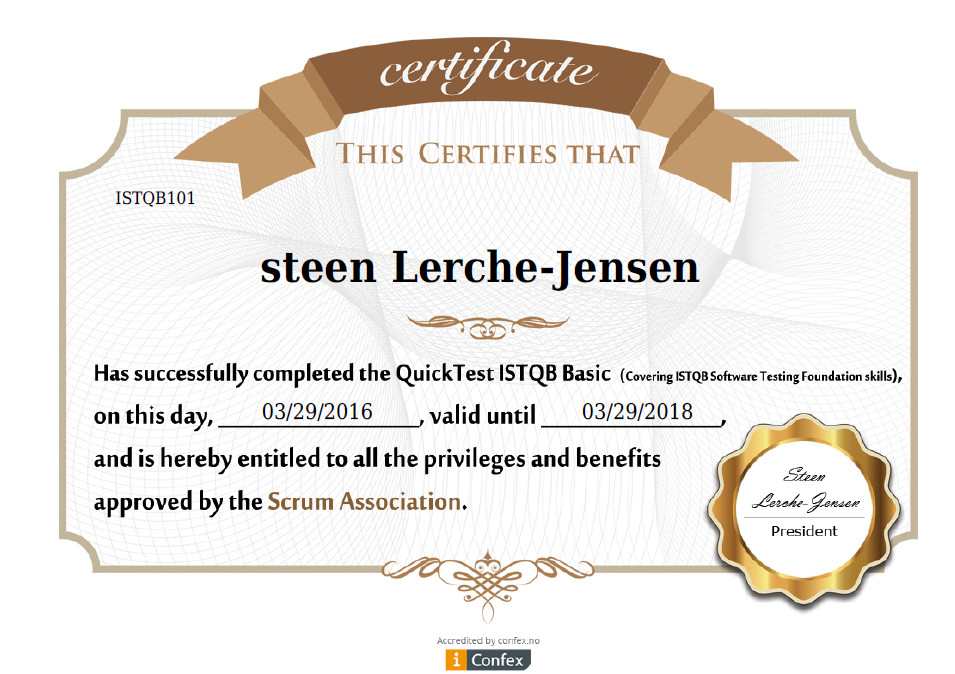 These two result documents can of course be sent to the candidate if you want, that is total up to you as account owner. The candidates will not get anything automatic here.
But you can also use them in your recruitment process.
Let us go back to the 3 ISTQB candidates you had found. Maybe one of them have a nice CV but fails the Basic ISTQB QuickTest and 2 of them passed the ISTQB QuickTest. It is now your chose if you still want to send in all three candidates, or you will skip out the guy who failed the skills test.
Now you have a winning tools:
For the candidates who passed you can actually include the QuickTest passed documentation and tell your client that you tested your candidate's skills and they passed.
Everyone can create good looking CVs and maybe talk you around in technical areas that you are not 100% strong in as a recruiter or HR personal. But, with this tool in your hand you get very strong documentation that you can use actively in your recruitment process.
Nothing beats the facts - QuickTest from scrum.as gives you a winning tool.
Try it today - start with 10 QuickTests. After that we are sure you'll see the great value this tool have.
Nothing is worse than hiring wrong candidates.
Author: Steen Lerche-Jensen